Wildebeest Migration Facts, Routes, Safaris, Tracker & Time
The Great Wildebeest Migration Facts, Routes, Safaris, Tracker & Time. The Great Wildebeest Migration is the largest animal migration in the world.
Experience Africa's Great Wildebeest Migration; The Great Wildebeest Migration is a spectacle that die-hard safari lovers have at the top of their bucket lists. It's arguably Mother Nature's greatest wildlife show, with millions of wildebeest, followed by gazelle and zebra, traversing across the Serengeti in Tanzania and Maasai Mara in Kenya.
Hunger-stricken carnivores inevitably follow suit, which provides for thrilling wildlife sightings! Since there is only one direction to go—forward—it is always survival of the fittest.
Knowing when to be where is crucial because the animals are continuously moving, making this adventure a little trickier to follow than a typical safari. Everyone should take an African safari that includes the Great Wildebeest Migration at least once in their lifetime. Here is what to anticipate.
The Great Wildebeest Migration
One of the finest Wildebeest Migration experiences in life is traveling through Africa. Just ask any of the 140+ happy visitors we've had on our continent! You've come to the perfect location if you don't want to settle for anything less than the best experiences while you're in Africa.
Great Wildebeest Migration
We specialize in tailor-made African safaris because we are Africa's Leading Safari Company. Each safari is therefore distinct and tailored to your tastes and wish list. Our travel specialists have also explored every corner of Africa in search of the best experiences possible so they can share their knowledge with you and ensure that your safari is flawless. The best way to experience our homeland is on a Wildebeest Migration safari. Get in touch with our travel specialists right away to begin arranging!

The Great Wildebeest Migration
The Great Wildebeest Migration Safari Packages that might interest you
Not sure where to start? Our best-selling Wildebeest Migration safari packages are here to get you going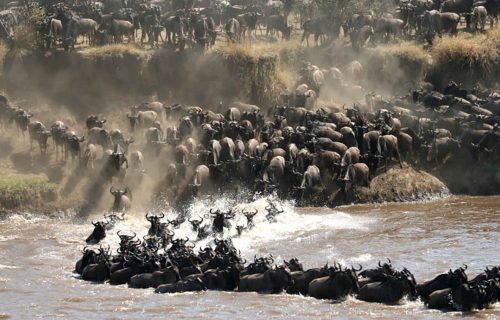 Gorillas & Wildebeest Migration
Days: 12 | Nights: 11
Experience Gorilla Trekking and Great Migration in this one-of-a-kind luxury bucket list Gorilla Trekking and Great Wildebeest Migration Safari showcasing 4 iconic wildlife destinations in East Africa.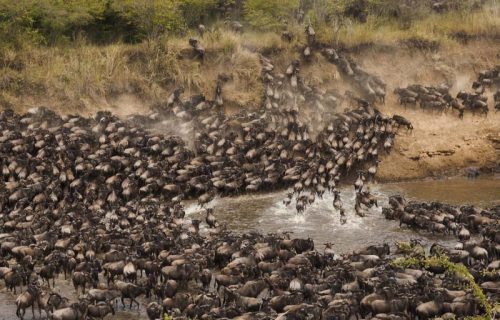 Great Wildebeest Migration Safari
Days 9 | Nights: 8
This immersive 9 Days Great Wildebeest Migration Safari in Tanzania will take you to four of its most scenic & biodiverse regions – Arusha, Tarangire National Park, Ngorongoro, & Serengeti National Park.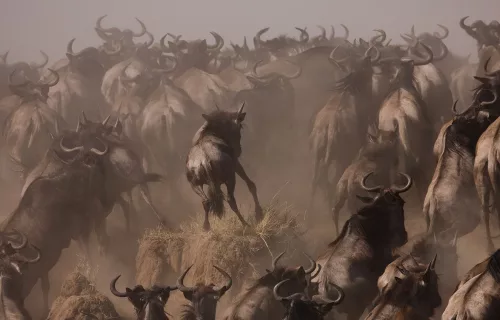 A Luxury Safari in Kenya
Days: 8 | Nights: 7
This 8 Days Luxury safari in Kenya invites you to see the Masai Mara and Lake Nakuru, two safari hotspots, and see landscapes alive with activity, from massive herds of wildebeest across the Mara to thousands of flamingos.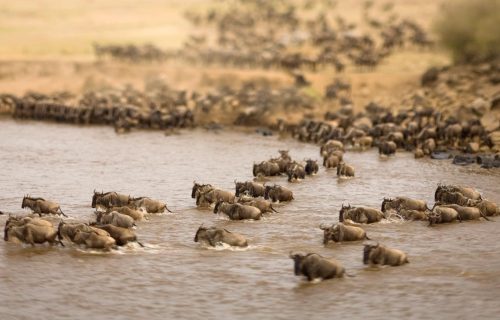 Tanzania Northern Circuit Safari
Days: 8 | Nights: 7  
8 Days Tanzania Northern Circuit Safari takes you through four of the top safari regions & countless thrilling experiences including the Great Wildebeest Migration. Both first-time tourists to Tanzania and seasoned safari travelers.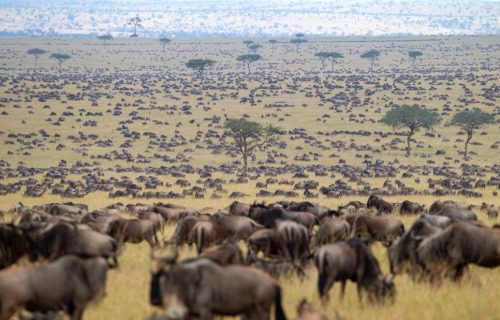 Amboseli, Lewa And Masai Mara
Days: 13 | Nights: 12
13 Days Amboseli Lewa and Masai Mara safari. Welcome to Kenya, the country that gave the world wildlife safaris. Kenya is a distinctive location that provides visitors with the ideal fusion of vivid culture, and exhilarating adventure.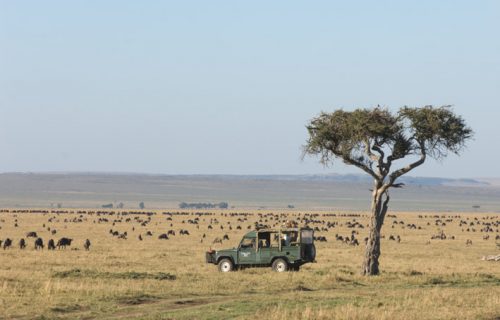 Gorillas And Tanzania Safari
Days: 15 | Nights: 14
15 Days East Africa Safari Package combines Rwanda and Tanzania. During this safari, you visit four wildlife meccas in Rwanda and Tanzania including Volcanoes, Serengeti, the Ngorongoro Crater, and Grumeti Private Reserve.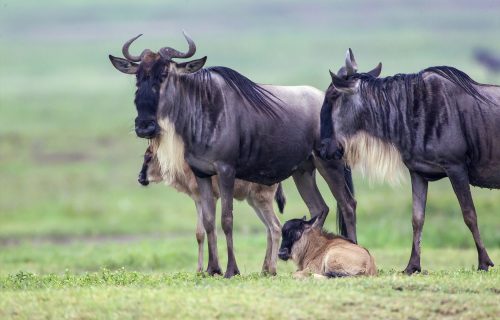 Wildebeest Calving Safari
Days: 7 | Nights: 8
7 Days Wildebeest Calving Safari in Tanzania the best Photography Safari to observe wildebeests migrate through the Serengeti during the calving season. Over a million wildebeests migrate from the North to the South to give birth.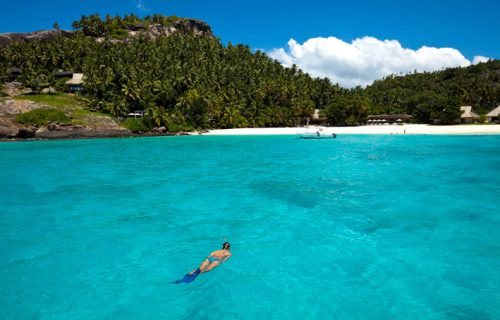 Kenya Safari And Seychelles
Days: 13 | Nights: 12
Experience the rich wildlife of Kenya on this Kenya Safari and Seychelles Honeymoon and spend carefree days on the beaches of Mahe and Praslin Island in Seychelles. Huge herds of elephants and buffalo, rhinos, lions, leopards.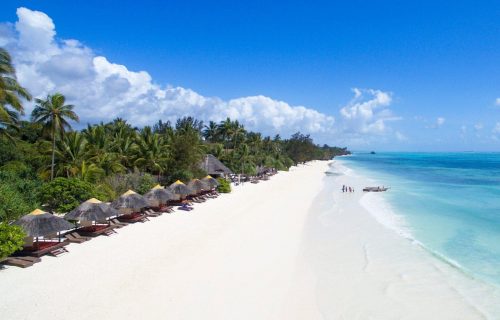 Kenya, Tanzania & Zanzibar Beach
Days: 14 | Nights: 13
14 Days Kenya, Tanzania & Zanzibar Safari tour to game reserves and beaches in Kenya and Tanzania could be just what you're looking for. Spend a day with giraffes at Nairobi's lovely Giraffe Manor and try your luck finding.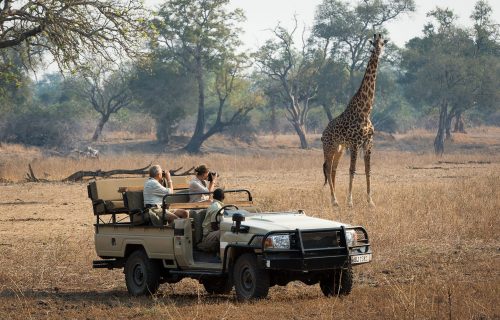 Tanzania, Kenya And Zambia
Days: 12 | Nights: 11
12 Days Family Safari in Tanzania Kenya Zambia itinerary appeal to you? Get in touch with our experts to personalize this Safari in Tanzania, Kenya, and Zambia, and take the first step towards ticking your top destinations.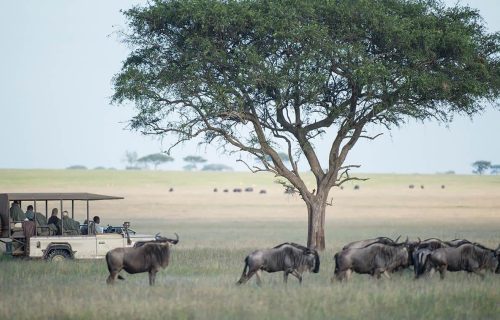 Tarangire, Serengeti And Volcanoes
Days: 13 | Nights: 12
This Tanzania and Rwanda Safari contains all of the elements needed to make a safari masterpiece. Unrivaled service at intimate estates, beautiful places dedicated to the preservation of Africa's animals.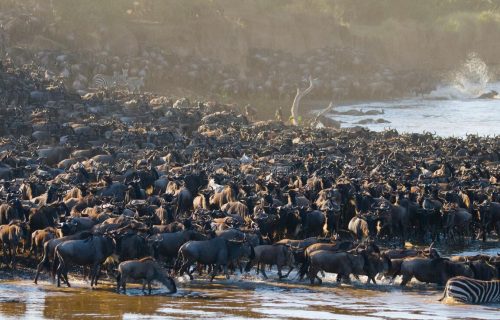 Kenya And Tanzania Safari
Days: 12 | Nights: 11
12 Days Kenya and Tanzania Safari encompasses the best of Kenya and Tanzania, as well as the most likely route for witnessing the Immense Migration of millions of wildebeest and zebra over East Africa's great plains.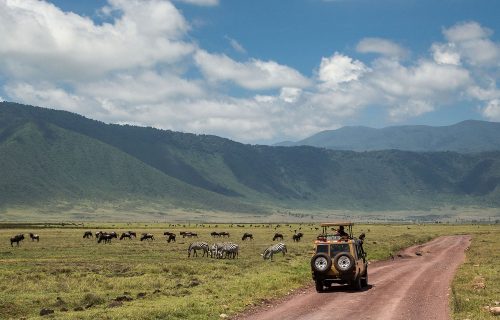 A Family Tanzania Safari
Days: 9 | Nights: 8
9 Days Tanzania Safari background with rolling grasslands, vivid marshes, and forests of enigmatic baobab trees, which legend has it were placed "upside-down" to prevent them from growing too tall and proud.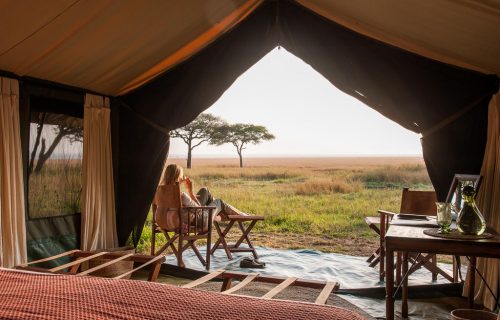 Tanzania Honeymoon Safari
Days: 8 | Nights: 7
8 Days Tanzania Safari provides the ideal East African experience for honeymooners and first-time safari guests. Explore Tarangire National Park, which is home to the iconic baobab trees, and descend into Ngorongoro.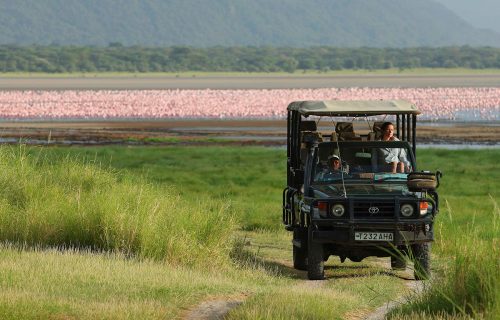 A Photographic Tanzania Safari
Days: 11 | Nights: 10
11 Days Tanzania Photographic Safari allows you to explore Tanzania's abundant parks in luxury and style. The Serengeti plains and the world-famous Ngorongoro Crater are just two of the places where you will experience.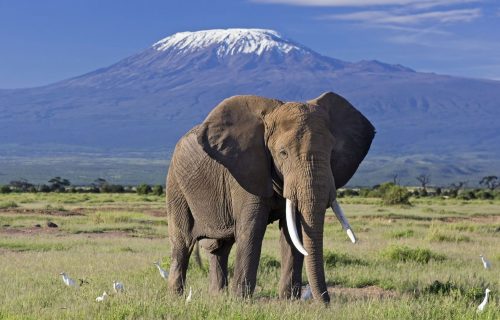 A Luxury Safari in Kenya
Days: 6 | Nights: 5
"6 Days Safari in Kenya" would undoubtedly be on the bucket list of the daring. The term translates as "going on a voyage" in Swahili, the language of East Africa. This meant traveling upcountry in the period of Hemingway.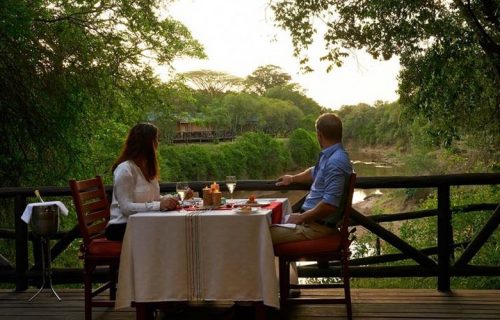 A Classic Kenya Honeymoon Safari
Days: 6 | Nights: 5
This 6 Days Kenya Safari will take you on a boat ride in Lake Baringo, as well as a 3-4 hour hike to the south end of Lake Bogoria to see the flamingos and hot springs. We also head to Lake Nakuru National Park.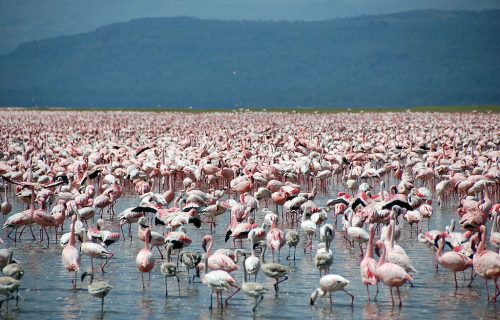 A Premium Kenya Safari
Days: 9 | Nights: 8
This 9 Days Kenya Safari will take you on a boat ride in Lake Baringo, as well as a 3-4 hour hike to the south end of Lake Bogoria to see the flamingos and hot springs. We also head to Lake Nakuru National Park to observe rhinos.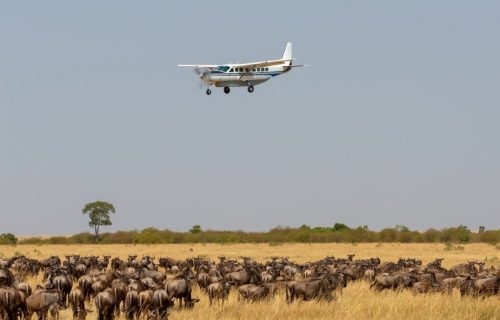 Explore Masai Mara National Reserve
Days: 4 | Nights: 3
The Maasai Mara National Reserve is Kenya's most famous game reserve. 4 Days Masai Mara Lodge Safari From Nairobi provides the opportunity to witness "the big five" as well as numerous other kinds of games.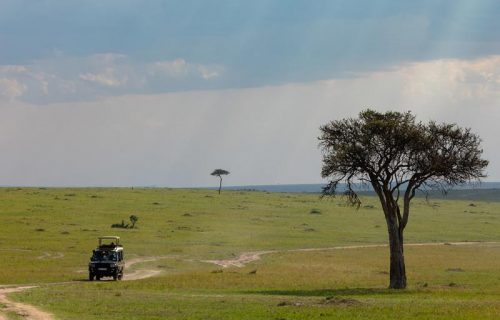 Kenya Safari And Diani Beach
Days: 11 | Nights: 10
The 11 Days Kenya Safari And Diani Beach is Family Package. Families may help with elephant conservation while also learning about orphans. Explore the forest on horseback and fly over the skies in an open cockpit aircraft.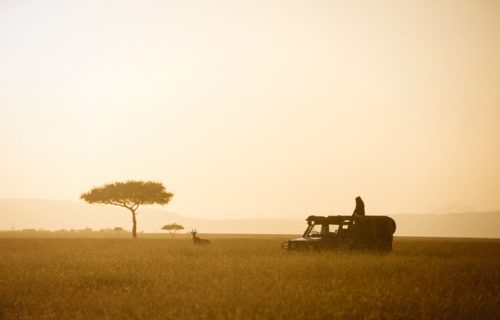 Kenya And Madagascar Holiday
Days: 13 | Nights: 12
Kenya and Madagascar Safari Start on the grasslands of the Masai Mara before flying across to the island of Madagascar for some lemur tracking through the forests and finally ending on the private reserve and beach of Anjajavy.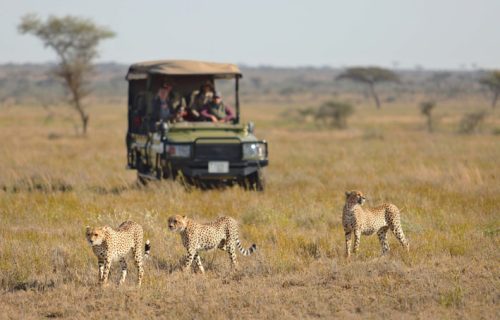 Rwanda Tanzania Zanzibar Itinerary
Days: 12 | Night: 11
12 Days Rwanda, Tanzania & Zanzibar Safari Package offers Gorilla Trekking, a Tanzania Safari, and a beach holiday in Zanzibar. Track the mountain gorillas twice in Rwanda before flying into the Serengeti for a big game safari.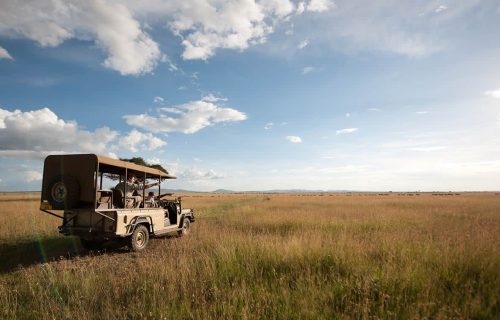 Primates And Big 5 Safari
Days: 10 | Nights: 9
10 Days Rwanda and Tanzania Safari combines tracking mountain gorillas in Volcanoes, Rwanda, Chimpanzee trekking in Rubondo Island National Park, and Serengeti for a big game safari.
What is the Great Migration?
The Great Migration, commonly referred to as the Wildebeest Migration, is a trip rather than a singular occurrence. The exodus has evolved into the iconic image of East Africa. Imagine wide open grasslands covered in wildlife, with flat-topped acacia trees on the horizon and that distinctively crimson African sunset in the background.
Between 1.5 and 2 million animals participate in the migration, mostly wildebeest and zebra, but there are also some Topi antelope, Grant's gazelle, Thompson's gazelle, impala, eland, and other species that follow. After the rain, they all go together across the plains in quest of greener pastures. It doesn't have a specific route, although it generally follows the same pattern every year.
The Great Wildebeest Migration in Africa is recognized as one of the Seven Natural Wonders of Africa and is considered the largest overland migration in the world. In fact, it's so well-known that one of the most popular itineraries we receive is an African safari that includes the Great Migration.
FAQs about the Great Wildebeest Migration
Where and when does the Great Migration occur?
Knowing exactly where you need to be is essential to avoid disappointment because this voyage is not precisely planned and depends on the amount of rainfall. You don't have to approach making reservations for your ideal Great Migration safari in Africa blindly, though! Our Kabira Safaris Africa Travel Experts, who work for Africa's Leading Safari Company, have traveled extensively and are familiar with the rhythm of Africa. They are aware of all her hidden gems and the most opulent places to unwind after a long day of exploration.
Where does the Great Migration take place?
The Great Wildebeest Migration follows a circuit rather than a set route between Tanzania's Serengeti plains in the south and Kenya's Maasai Mara in the north.
However, just because there is a general sketch of their journey does not mean that it follows a defined path. Instead, it's just common hallways. Natural events like the Great Migration are influenced by the environment, the weather, and the animals themselves. Even so, it generally follows a similar schedule and itinerary, though there may occasionally be unforeseen alterations.
A Massive Migration The Maasai Mara safari in Kenya is at its best when the herds cross the Mara River into the reserve before heading back into Tanzania. From here, they travel to the Serengeti National Park, the best place for your Tanzania Great Migration safari.
When is the Great Migration in Africa?
The approximate dates of the Great Migration don't change every year. When the animals leave the Serengeti plains in April, the first action takes place. They will face numerous challenges over the next months, including predators that are poised to strike. So when does Africa's Great Migration take place? To assist you in organizing your own, here is a general summary of their movement timetable.

Mara River Crossing : Zebra vs Crocodile

The Great Migration – Wildebeest Migration from the Serengeti to the Masai Mara, Crossing Mara River

The greatest animal migration on earth
Destinations for The Great Wildebeest Migration Safari in Africa
A selection of our favourite places for The Great Migration safari in Africa
Wildebeest Migration in Tanzania
The Serengeti and Ngorongoro Crater regions of Tanzania are the locations where the Great Migration in Africa occurs at this time. The animals are drawn to the now-luxurious grasslands by the yearly rains, and this time of year also happens to be when they give birth to their calves. Visitors can anticipate viewing adorable babies being born as well as several sightings of huge cats (and kills).
The herds then move on to the Serengeti Western Corridor's greener plains. It's challenging to track their movements during this time due to the periodic rains, which also cause several smaller safari camps to temporarily close their doors and make numerous routes unusable.
When the rain stops in June, the animals move further north, where they now congregate together to form much larger herds. The time for mating is now. The Western Serengeti is the ideal location to view the animals at this time.
The Grumeti River, the animals' first significant challenge, causes drama to ensue. It's an easy feat, and many animals don't make it through because of the abundance of hungry crocodiles waiting to pounce and the deep sections the animals must battle through.

The Great Migration of the Wildebeest | Serengeti Mara River Post | Tanzania | 4K-Video

Crazy Great Migration Mara River Crossing in Serengeti – Tanzania Safari
Factors influencing the timing & location of the Wildebeest Migration?
The Great Wildebeest Migration is not fully predictable, but it is known that the demand for food and water supplies drives its course.
The animals travel to the next location in search of new supplies as the weather changes, depleting the local supply of food and water. In other words, this dry season forces them to leave when the rain stops in one place. The long trek these herbivores make to find the ideal grasses for their next meal has come to be known as Africa's Great Migration because they depend on high-quality grass for nutrition.
Fortunately, there isn't much rivalry among the species for food, allowing them to migrate in peace. The migrators' feeding habits vary as well; some species prefer the tallest grass, while others prefer medium-height grasses. They can all eat while traveling over the grasslands if they do it in this manner. Additionally, there is power in numbers, which protects them from predators.
The grasslands they leave behind have a chance to regenerate as a result of their frequent meandering, making them ready for the wildlife's next appearance.
Great Wildebeest Migration in Kenya
The herds begin to migrate north as the Serengeti grasslands begin to turn yellow. They proceed to Kenya's Mara Triangle and Lamai Wedge. However, they must first pass another barrier, the Mara River, which is likewise teeming with crocodiles waiting to strike, before they can feast on the Mara plains.
Predators lurking nearby feast on the animals that made it through the Mara River and have now flooded the Mara plains. The finest spot to stay at this time is Governors' Camp.
The animals begin their arduous journey back to Tanzania, where they will give birth to the following generation of migrators, while rain begins to fall once more in the south. The wildebeest migration is best witnessed from Klein's Camp during the brief November rains.

Wildebeest Migration as Cheetah, Lions & Crocs Hunt Them – Maasai Mara, Africa
Our Wildebeest Migration safari tips
As you can see, organizing a Great Wildebeest Migration safari is not simple. There are so many things to take into account, and deciding when and where to go can either make you giddy with anticipation or leave you feeling bitterly let down when you miss all the action.
Since the Wildebeest Migration is a once-in-a-lifetime safari adventure, it is crucial to only book with the top safari trip operator. And we can confidently state that this is us because we were named Africa's Leading Safari Company!
We've traveled to East Africa a great deal. The Great Wildebeest Migration has been observed during various seasons of the year. We are able to call the lodge's owners, managers, and other employees by name. We've slept in the beds, taken game drives, and flown in a hot air balloon over the plains. Even better, we were able to observe wildlife without ever leaving the comfort of our beds because we had such a great front-row seat.
Free tour planning advice
from wildebeest migration experts
To make sure your Great Migration experience is nothing short of extraordinary, we'd be delighted to share our insider knowledge, tips, and recommendations with you. We can also suggest the ideal tour because we are aware of which locations go well together.
What are you still holding out for? Contact our travel specialists right away. They can't wait to start organizing your ideal Great Wildebeest Migration safari!