Wilderness Safaris – Bespoke Luxury African Wildlife Safaris
Browse our Wilderness Safaris in Africa. simply contact a Kabira Safari Expert for assistance with planning the perfect tailor-made Wilderness Safaris.
Our Wilderness Safaris & Packages that might interest you
See our wilderness Safaris and book the best wildlife Safari Packages with us. Book With Confidence.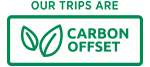 Travel lightly with Kabira Safaris. We've offset the main sources of carbon emissions from this trip on your behalf, including transport, accommodation & waste.
How to Plan a Luxury African Safari
Describe your dream African Adventure.
We get you in touch with our travel planning specialists who will help you plan your African Safari.
We make adjustments where necessary.
Book the itinerary/Jouerny when ready.
Let us Plan your dream
African Safari Experiences
Enquire now and a Travel expert will get back to you within 2-4 hours.
Chat. +256 779 820 753