6 Days Kenya Safari: How To Plan A Luxury Kenya Itinerary
The 6 Days Kenya Safari, How To Plan A Luxury Kenya Itinerary to Amboseli, Aberdare, and Masai Mara. 6 Days Kenya Safari, you will not only experience the real wildlife and see for your own eyes the stunning landscapes of this popular safari destination

Our LION SAFARI ENCOUNTER! The BEST Wildlife Safari in Africa! (Masai Mara Kenya)
"6 Days Safari in Kenya" would undoubtedly be on the bucket list of the daring. The term translates as "going on a voyage" in Swahili, the language of East Africa. This meant traveling upcountry in the period of Hemingway and Karen Blixen, setting off with a tent and a rifle into the backcountry where the wild things are. The hunter's day has come to an end. This is the era of luxury lodges and tented camps. And with this 6 Days Kenya Luxury Safari, you will not only get to encounter real wild animals and view the gorgeous landscapes of this renowned safari destination for yourself. You're also in for a treat because we've hand-picked the finest luxury accommodations for your once-in-a-lifetime vacation.
Itinerary at the Glance: 6 Days Kenya Safari
Day 1: Nairobi – Amboseli National Park
Day 2: Amboseli National Park
Day 3: Amboseli – Aberdare
Day 4: Aberdares – Masai Mara
Day 5: Masai Mara
Day 6: Nairobi- Departure
Detailed Itinerary
Day 1: Nairobi Lake Nakuru
When you arrive at Jomo Kenyatta International Airport, you will be received by our representative and transferred to Amboseli National Park, which is famous for its large game and scenic splendor, with Mt. Kilimanjaro dominating the landscape. It stands out due to its dry and dusty look, which can be linked to the volcanic ash that spewed from Mt Kilimanjaro when it last erupted. Despite its look, Kilimanjaro's melted snow provides a constant supply of water that is filtered by volcanic rocks. These streams flow underground, creating lush green landscapes, and culminate in the park at two clean water springs.
You arrive in time for lunch at the lodge before embarking on an afternoon wildlife viewing drive till dusk.
Meals: Lunch, Dinner
Day 2: Amboseli National Park
Spend the entire day in the park game viewing. This diverse park is home to a wide range of animals, including zebra, wildebeest, giraffe, impala, caracal and serval cat, lion, leopard, cheetah, and buffalo. There are around 400 bird species, including bee-eaters, kingfishers, African fish eagles, martial eagles, and pygmy falcons. Visitors primarily come to see the vast herds of elephants. The tusks of the bull elephants are among the largest in Kenya. Visitors can also enjoy spectacular views of Mount. Kilimanjaro and Mt. Meru.

Kenya Safari VLOG – Amboseli National Park with Beyond the Plains Kenya
Meals: Breakfast, Lunch, Dinner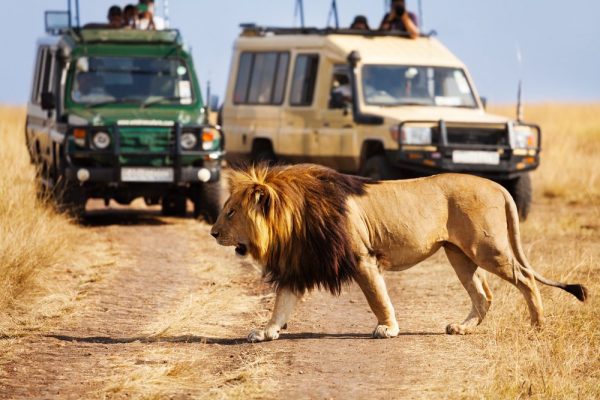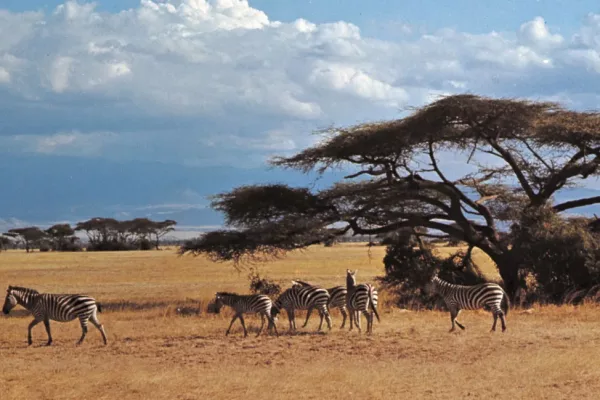 Day 3: Amboseli – Aberdare
After breakfast, depart for the verdant foothills of the Aberdares highlands. You arrive at the Aberdares Country Club for a late lunch, an opulent baronial-style country home set amid sweeping excellently landscaped gardens. Later, transfer to Aberdares National Park via the Ark gate. The Ark provides the first opportunity for wildlife observation in a very unique setting. The Ark was created to imitate the biblical Ark, and you will be able to see animals as they come to drink along a natural waterhole while staying overnight. Elephants, rhinos, bongos (rare nocturnal antelopes with black on tan stripes), and other species may be seen here.
Meals: Breakfast, Lunch, Dinner
Day 4: Aberdares – Masai Mara
After breakfast, drive to the world-famous Maasai Mara Game Reserve, which translates to "spotted plains" in Maa. This has the highest density of large mammals and is often regarded as Africa's ultimate wildlife reserve. Because it borders Tanzania's Serengeti, the park has become famed for its yearly migration of wildebeest.
Check-in upon arrival, followed by lunch, and then embark on an evening game viewing drive in this stunning region of breathtaking scenery, endless plains, and the most extensive array of species remaining anywhere in the world. The environment consists of sweeping savannahs interspersed with sparse bushes and bush thickets.
Meals: Breakfast, Lunch, Dinner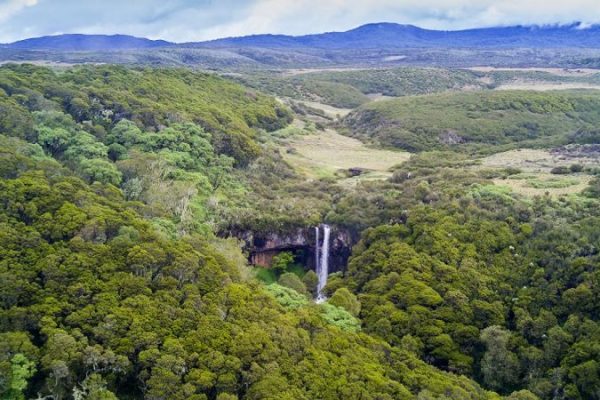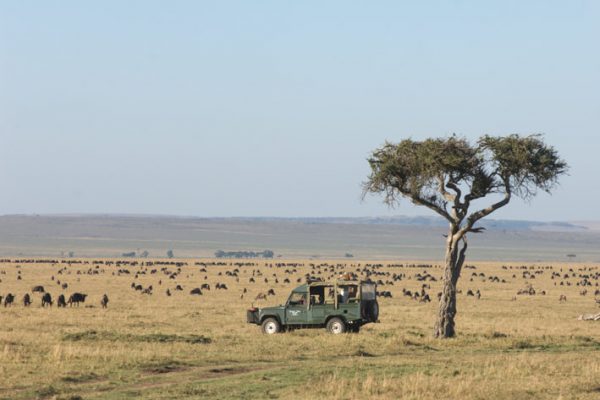 Day 5: Masai Mara
During your stay, you will have the opportunity to thoroughly explore this vast reserve. Elephant, giraffe, lion prides, and thousands of impala, topi, grants, and Thomson's gazelle may be seen. Birds, especially newcomers, are prolific; 450 bird species have been reported, including 57 birds of prey. The yearly migration of millions of wildebeest up from the Serengeti plains in search of water and grasses takes place in the Mara. You will have the choice to float above the Mara-Serengeti ecosystem in a hot air balloon while in Mara, followed by a gourmet champagne breakfast (at an extra cost).

WILDLIFE SAFARI in KENYA, AFRICA (Masai Mara)
Meals: Breakfast, Lunch, Dinner
Day 6: Nairobi- Departure
After breakfast, we drive out across and over the rift escarpment to Nairobi. Transfer directly to Jomo Kenyatta International Airport for your outbound flight.
Meals: Breakfast, Lunch
End of the 6 Days Kenya safari
Inclusions
Park fees
All activities (unless labeled as optional)
All accommodation as stated in the itinerary
A professional driver/guide
All transportation (unless labeled as optional)
All Taxes/VAT
Roundtrip airport transfer
All Meals (as specified in the day-by-day section)
Drinking water on all days
Exclusions
International flights (from/to home)
Additional accommodation before and at the end of the tour
Tips (tipping guideline US$20.00 pp per day)
Personal items (souvenirs, travel insurance, visa fees, etc.)
The government imposed increase of taxes and/or park fees
Alcohol drinks
Essential Trip Information
Want an in-depth insight into this 6 Days Kenya Safari Trip? Essential Trip Information provides, visa info, How to get to Kenya the Best Time to visit – pretty much everything you need to know about this adventure and more.
Let's Plan your trip to the 6 Days Kenya Safari
One of our Safari Experts will get back to you within 2 – 4-hours.