Mgahinga Gorilla National Park Safaris, Activities & Lodges: A Travel Guide
This page is a travel guide to Mgahinga Gorilla National Park it talks about; Mgahinga Gorilla National Park safaris, accommodations, activities, animals & location.
The spectacular Virungas, a group of freestanding volcanoes that reaches a peak elevation of 4,507m/14,787ft on the border with Rwanda and the Democratic Republic of the Congo, are protected on the Ugandan side by Mgahinga Gorilla National Park (DRC).
In the village of Kisoro, Uganda's southwest corner is where you'll find the park. In 1991, Mgahinga was transformed from a game reserve into a complete national park, primarily to safeguard the mountain gorillas that were engaged in regular clashes with local residents.
The name of the park, "Gahinga," is a Kinyarwanda word that refers to the tiny lava stones that are widespread in gardens at the base of the mountain. It is also the smallest national park in Uganda, with a 34 square kilometer area.
Why visit Mgahinga Gorilla National Park?
Mgahinga Gorilla National Park safari;
The most well-known activity in Mgahinga Gorilla National Park is gorilla trekking, which entails people moving through the tropical rainforest in search of the mountain gorillas and spending time with them in their natural habitat if found.
One habituated gorilla family, the Nyakagezi, can be trekked every day in the Mgahinga Gorilla National Park.
Mountain gorilla trekking at Mgahinga Gorilla National Park lasts between 30 and 6 hours, and you can see a variety of wildlife throughout that time.
This includes primates including chimpanzees, black and white colobus, and l'hoest monkeys, as well as many bird and mammal species, plants, and tree species.
Safaris in Mgahinga Gorilla National Park to get you dreaming
Our favorite safaris showcasing the best of Mgahinga Gorilla National Park, Uganda.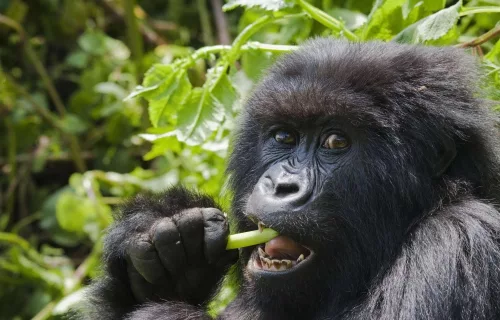 An exclusive double gorilla trekking in Mgahinga vs Bwindi National Parks from Kigali-Rwanda, Most people aren't aware of Mgahinga Gorilla trekking but those that have been on both Trekking at Bwindi & Mgahinga National Parks.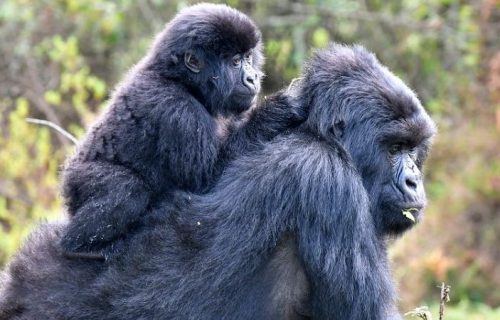 3 Days Gorilla Trekking in Mgahinga takes you to the smallest national park in Uganda to track and visit the mountain gorillas in Uganda. Gorilla trekking in Mgahinga – the scenery in and around the park is stunning.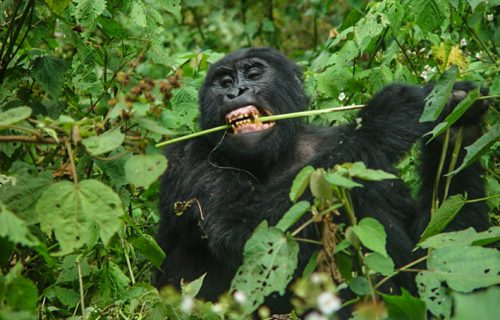 Gorilla Trekking in Africa is truly an exclusive wildlife adventure of a lifetime. A Mountain Gorilla or Lowland Trekking is frequently ranked second to a classic Big 5 wildlife drive in Kruger or Serengeti National Parks on travel bucket lists.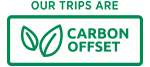 Responsible travel and Vacations are part of Kabira Safaris' DNA. Since the beginning, we've strived to work with local people and businesses in our destinations. We believe that this not only gives you the finest experience possible, but it also benefits nearby communities. Locals are therefore driven to protect whatever attracts tourists, be it their culture, fauna, or environment. In contrast, we actively steer clear of "tourist traps." Responsible Travel Policy.
Animals in Mgahinga Gorilla National Park
While Mgahinga Gorilla National Park is primarily known as a mountain gorilla trekking alternative to Bwindi Impenetrable National Park, it also has excellent birding opportunities and a chance to interact with the local golden monkey.
The only habituated troop of gorillas in this area is the Nyakagazi group. As a result, there are only eight permits available each day, making the hiking day incredibly exclusive.
The presence of four sibling silverbacks in the same troop of mountain gorillas is noteworthy. You can also follow a troop of habituated golden monkeys, which are indigenous to the Albertine Rift and primarily found in the Virunga Mountains.
The resident mammals' elephant, golden cat, side-striped jackal, giant forest hog, bushpig, and bushbuck are more elusive and less frequently seen than bushbuck and buffalo.
Birds
The birds of Mgahinga Gorilla National Park have not been the subject of many studies thus far, but bird watchers nevertheless find the park to be of great interest.
There have been more than 180 bird species identified, many of which are specialized forest birds; 12 of them are thought to be endemic to the Albertine Rift (birds restricted to this area).
Birders get the chance to check off some Afro-alpine endemics, including the scarlet-tufted malachite sunbird, on a number of guided mountain climbs. From November through April, migratory birds can be found here.
The Black kite, Cape robin-chat, and African paradise flycatcher are notable birds that tourists can see.
Trees
Mgahinga Plant Life The smallest vegetation type on the continent, an afro-montane forest, makes up the vegetation of Mgahinga National Park.
Woodlands make up the majority of the vegetation in Mgahinga, and the only remaining pure montane forest is a small patch at the foot of Mount Muhabura due to the 1950s invasion. A dense ground cover covers an open forest known as montane woodland.
Wild bushes and herbs flourish on the lower slopes. The tilled gardens have developed into shrubs and grasses as a result of the neighborhood's encroachment on the park in the 1980s.
Activities in Mgahinga Gorilla National Park
Other Ugandan activities that tourists to Mgahinga Gorilla National Park can look forward to on their vacation include the following:
Gorilla tracking: Mgahinga National Park is home to over 80 mountain gorillas. The gorillas in Mgahinga have evolved more fluffy coats than those in Bwindi Impenetrable Forest, which makes them fascinating to study.
Golden Monkey Tracking: Visitors will be in awe of the golden monkeys, a subspecies of the blue monkey, due to their adorable appearance and stunning golden coats. They live in big groups of up to 80 individuals and are very fun, active monkeys.
Bird Watching: One of the top birding locations in Uganda is Mgahinga National Park. The caverns, forests, lakes, and mountains of Mgahinga National Park are home to over 110 different bird species, including the Yellow-Vented Bulbul, Yellow-Throated Long Claw, and White-starred Robin.
Mountain climbing: Climbing one of the three volcanoes located in the park is one of the exciting things to do in Mgahinga. Getting to the top of Mount Sabyinyo offers the chance to simultaneously stand in Uganda, the Congo, and Rwanda.
Nature walks: Mgahinga National Park's virgin forests, lakes, rivers, wetlands, and mountain slopes make for ideal locations for nature walks. The lovely village plantings could be reached via one of the walking trails.
The Batwa Trail and Cultural Visit: The Batwa people, who have been living in the Mghinga forest as hunters for thousands of years, are the most interesting tribe in the territories surrounding the Mgahinga gorilla national park. They make for an excellent day excursion.
How to get to Mgahinga Gorilla National Park?
By Plane
The majority of visitors enter Uganda through Entebbe International Airport (EBB), thus travelers should be informed of the most recent Uganda visa requirements. From Entebbe to Kisoro, a domestic flight is accessible.
By Road
A difficult climb road leads 14 kilometers from the little hamlet of Kisoro to Mgahinga Gorilla National Park (allow 45 minutes).
For this road, a 4WD vehicle is always advised, and it is absolutely necessary during the rainy seasons (from February to May and September to November).
The park may be accessible by road from Queen Elizabeth National Park or Lake Mburo National Park, both of which are 510 kilometers (317 miles) from Kampala and at least nine hours away by car (5 to 7 hours).
The Ugandan shilling (UGX), which is best to carry in tiny amounts, is indicated for minor purchases.
Tariffs & Regulations
Entrance fee
Both foreign non-residents and foreign residents must pay the $40 entrance charge to the Mgahinga Gorilla National Park, which is payable at the gate. Mountain gorilla trekking and habituation are not included.
Rules & Regulations
Only persons of 15 years and above are allowed to trek gorillas. This is because children below 15 are known to be unpredictable and therefore you can not determine how they will behave in the presence of the gorillas.
In case of a cold, you are advised not to trek gorillas since they can easily catch a cold.
While in the forest, human waste should be buried 30cm deep
Always keep a 7m (21ft) distance from the gorillas
Any kind of smoking, eating, and drinking are not permitted allowed during gorilla trekking
If you must sneeze or cough always cover your face and turn away from the gorillas
One hour is the maximum time for each trek in the presence of the gorillas.
During the trek, do not use flash photography
Accommodation at Bwindi Impenetrable Forest National Park
When considering where to stay when visiting Mgahinga Gorilla National Park, visitors have a variety of alternatives, with lodging options ranging from high-end safari hotels to more affordable campsites. but as Kabira Safaris we recommend only Luxury & Mid-range lodges.
Lodges
The outstanding lodging and accommodation options; are Chameleon Hill Lodge, Mount Gahinga Rest Camp, and Clouds Mountain Gorilla lodge.
Alternative lodge options include; Amajambere Iwacu Community Camp
Camping
Camping is done at selected safari lodges that offer camping grounds in Bwindi. Book a camping safari and enjoy the outdoor experience for a small fee.
Useful information
Geography
Mgahinga Gorilla National Park can be found in the southwest of Uganda and is reachable on a safari tour of the country by chartered flight from Uganda's Entebbe International Airport (EBB) to Kisoro.
The park is frequently visited in conjunction with tours of Murchison Falls National Park and Bwindi Impenetrable National Park.
Weather
The warm to chilly and damp climate in Mgahinga Gorilla National Park. This is one of the coldest places in the nation due to the high height (2,227m to 4,127m or 7,306ft to 13,540ft). Average daily temperatures are 20°C (68°F) during the day and 9°C (48°F) at night.
Rain is always possible in Mgahinga because there is no actual dry season. However, December and January typically have less rainfall than June and July. The two distinct Wet seasons are from September to November and from February to May. It's a good idea to take sturdy hiking boots and water-resistant gear.
Best time to go
Understanding the optimum time to visit Uganda is crucial since it affects lodging costs, flight costs, availability, and the weather visitors can anticipate while on their safari trip.
The best times to undertake gorilla trekking at Mgahinga Gorilla National Park are from June to August and December to January when the weather is drier.
When it's not raining, the trails are usually simpler to follow and it could be more enjoyable to spend a valuable hour with the gorillas.
Health
It is advised to see a travel medical facility before traveling to Uganda. A number of Uganda vaccinations are advised and typically given before your departure.
It is advisable to take antimalarial medications, cover up at night, and use insect repellent (those containing DEET are the most effective).
It is advised to see a travel medical facility before traveling to Uganda. A number of Uganda vaccinations are advised and typically given before your departure.
FAQs About Mgahinga Gorilla National Park
Where is Mgahinga Gorilla National Park located?
Mgahinga Gorilla National Park is located in southwestern Uganda and can be reached via chartered flight from Uganda's Entebbe International Airport (EBB) to Kisoro.
What animals will visitors see at Mgahinga Gorilla National Park?
Visitors to Mgahinga Gorilla National Park will see gorillas, golden monkeys, birds as well as sibling silverbacks, Bushbuck, buffalo, golden cat, side-striped jackal, giant forest hog, bushpig and the elephant.
Other Uganda Safari Parks
The ten Uganda National Parks include Queen Elizabeth, Lake Mburo, Murchison Falls, Kidepo Valley, Kibale, Mount Elgon, Rwenzori Mountains, Semuliki, Mgahinga Gorilla, and Bwindi Impenetrable National Parks.