Bwindi Impenetrable Forest National Park Safaris, Activities & Lodges: A Travel Guide
This page is a travel guide to Bwindi Impenetrable Forest National Park it talks about; Bwindi Impenetrable Forest National Park safaris, accommodations, activities, animals & location.
Bwindi Impenetrable Forest National Park is a large primeval forest located in southwestern Uganda in the Kanungu District.
The huge bamboo stands that are scattered throughout the bigger forest hardwoods are where the park gets its name. Direct access on foot is very difficult due to the bamboo and dense undergrowth of ferns, vines, and other plant growth.
Why visit Bwindi Impenetrable National Park?
Bwindi Impenetrable Forest National Park safari;
According to the 2019 Gorilla Census, the Bwindi Impenetrable Forest National Park is home to 459 mountain gorillas, which is more than the renowned Virunga National Park in the Democratic Republic of the Congo and is believed to account for over half of all mountain gorillas worldwide.
This safari destination, which is also a UNESCO World Heritage Site, is unquestionably the greatest in Uganda for finding mountain gorillas. With numerous habituated groups, this national park in Uganda is home to over 40% of the mountain gorilla population worldwide.
Mountain gorillas are Bwindi's biggest draw, and they bring in a lot of money for the Uganda Wildlife Authority.
Twelve habituated mountain gorilla groups are accessible to tourists in four separate Buhoma, Ruhija, Rushaga, and Nkuringo sectors, making witnessing these enormous beasts in the wild an extremely gratifying experience on any East African safari.
Safaris in Bwindi Impenetrable National Park to get you dreaming
Our favorite safaris showcasing the best of Bwindi Impenetrable Forest National Park, Uganda.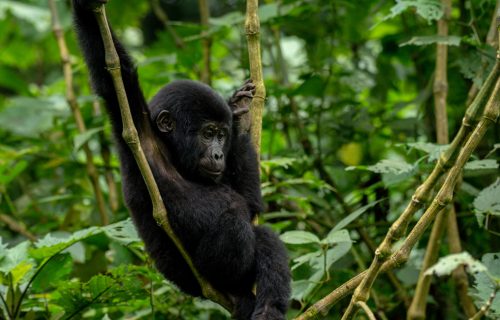 Experience Gorilla Trekking and Great Migration in this one-of-a-kind luxury bucket list Gorilla Trekking and Great Wildebeest Migration Safari showcasing 4 iconic wildlife destinations in East Africa.
Experience the Ultimate 8 Days Uganda Safari in Kibale, Queen Elizabeth & Bwindi. The 8 Days Uganda Safari is Gorillas, Chimpanzee and Wildlife Adventure, Explore Uganda – The Pearl of Africa.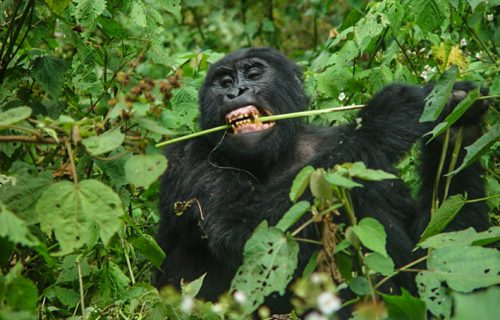 Gorilla Trekking in Africa is truly an exclusive wildlife adventure of a lifetime. A Mountain Gorilla or Lowland Trekking is frequently ranked second to a classic Big 5 wildlife drive in Kruger or Serengeti National Parks on travel bucket lists.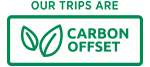 Responsible travel and Vacations are part of Kabira Safaris' DNA. Since the beginning, we've strived to work with local people and businesses in our destinations. We believe that this not only gives you the finest experience possible, but it also benefits nearby communities. Locals are therefore driven to protect whatever attracts tourists, be it their culture, fauna, or environment. In contrast, we actively steer clear of "tourist traps." Responsible Travel Policy.
Animals in Bwindi Impenetrable Forest National Park
There are nine additional species of primates in the forest in addition to the endangered mountain gorillas. Chimpanzees, olive baboons, black-and-white colobus, and l'Hoest's monkeys are a few of these. Although they exist, elephants are rarely seen.
There have been reports of seeing bushbuck and many kinds of forest duiker. A very remarkable bird and butterfly checklist can be found throughout the park.
Elephants, duikers, buffaloes, golden cats, bush pigs, gigantic forest hogs, yellow-backed duikers, clawless otters, side-striped jackals, civets, as well as various bats and rodents are among the other creatures.
Birds
Every birder's itinerary should include a stop in Bwindi. Some of Africa's best montane-forest (mountain-forest) bird watching can be found in the park. 350 bird species are thought to exist, 14 of which are unique to Uganda.
The Neumann's warbler and blue-headed sunbird are two of the 23 birds that are exclusive to the Albertine Rift, which make up 90% of all endemic birds in the region. From November through April, migratory birds can be found here.
Trees
The Bwindi Impenetrable Forest National Park, an old rainforest, stretches across a number of abrupt ridges in the Virunga Volcanoes mountain range.
African brown mahogany trees, Ceiba trees, Cecropia trees, and ebony tree species are among the tree species found in the Bwindi Impenetrable Forest.
Equatorial rainforest trees, which may reach heights of up to 55 to 75 feet and produce dense canopies, are abundant in Bwindi Impenetrable National Park. Many of these trees have large leaves and contain hardwood.
Activities in Bwindi Impenetrable Forest National Park
Other Ugandan safari activities that guests can enjoy while visiting Bwindi Impenetrable National Park include the following:
Gorilla Trekking: There are 19 habituated gorilla families in Bwindi, which visitors can locate in the park's four distinct sectors. The gorilla sectors in Buhoma, Ruhija, Nkuringo, and Rushaga offer a special opportunity to interact closely with these amazing animals.
Forest hikes: Visitors can take guided nature walks through the park's well-constructed routes, such as the Munyaga River trail, to visit its stunning waterfalls while also admiring its spectacular and rich flora and animals.
Mountain biking: The guides in the Buhoma sector will share their expertise of the region and the locals, as well as the culture and abundant birds you'll see, which is a terrific way to learn about the park.
Buhoma community walks: The Buhoma community walk will take place in the Buhoma sector and will entail a trip through the hamlet where participants will visit a nearby school, hospital, and traditional healer, and also get to watch and participate in the traditional winemaking process.
Lake Mutanda: Travelers should visit this stunning and rejuvenating location in the park's southern region to relax after their gorilla trekking experience. A dugout boat can be used to travel among the lake's numerous islands.
How to get to Bwindi Impenetrable National Park?
By Plane
The majority of visitors arrive in Uganda through Entebbe International Airport (EBB), thus travelers should be informed of the most recent Uganda visa requirements.
It is possible to fly domestically from Entebbe or Kampala (Kajjansi Airfield) to Kihihi or Kisoro in Bwindi, which are both located around 46 km (29 mi) from the airport.
The majority of internal flights between parks are planned by travel companies and are part of your vacation package. Two domestic airlines offer regular flights to Kihihi (40 km from the park) or Kisoro.
By Road
In Bwindi Impenetrable Forest National Park, there are four separate trailheads for gorilla trekking. In the north, these are Buhoma and Ruhija, and in the south, Rushaga and Nkuringo. By car, it takes many hours to get there.
The primary gorilla trekking trailhead, Buhoma, may be reached from Queen Elizabeth National Park in 2 to 3 hours (from the Ishasha sector) or 5 to 6 hours (if included in a tour of Uganda) (from the more northerly sectors).
The distance from Lake Mburo National Park to the numerous trailheads is 5 to 7 hours by car. A direct road trip from Entebbe or Kampala will take between 8 and 10 hours. Some trailheads require a 4WD vehicle to access during the wet season.
Another way to travel to Bwindi is by scheduled or private flight. The trailheads for the Buhoma and Ruhija are closest to Kihihi, while Rushaga and Nkuringo are farther south and closer to Kisoro.
Tariffs & Regulations
Entrance fee
All entrance fees to Bwindi Impenetrable Forest National Park must be paid at the gate. Adults pay the following fees, which are valid for 24 hours:
In Uganda, a Gorilla trekking permit is $700 for foreigners that do not stay particularly in Uganda and in any of the countries in the East African Community, $500 for foreigners that stay in the partner states of the East African Community, and then Shs 250,000 for the natives that stay in the East African Community.
Rules & Regulations
Only persons of 15 years and above are allowed to trek gorillas. This is because children below 15 are known to be unpredictable and therefore you can not determine how they will behave in the presence of the gorillas.
In case of a cold, you are advised not to trek gorillas since they can easily catch a cold.
While in the forest, human waste should be buried 30cm deep
Always keep a 7m (21ft) distance from the gorillas
Any kind of smoking, eating, and drinking are not permitted allowed during gorilla trekking
If you must sneeze or cough always cover your face and turn away from the gorillas
One hour is the maximum time for each trek in the presence of the gorillas.
During the trek, do not use flash photography
Accommodation at Bwindi Impenetrable Forest National Park
When considering where to stay when visiting Bwindi Impenetrable Forest National Park, visitors have a variety of options to consider. There are safari lodges available that range in price from luxurious to inexpensive. but as Kabira Safaris we recommend only Luxury & Mid-range lodges.
Lodges
The outstanding lodging and accommodation options; are Buhoma Lodge, Four Gorillas Lodge, Clouds Mountain Gorilla Lodge, and Mahogany Springs.
Alternative lodge options include;
Camping
Camping is done at selected safari lodges that offer camping grounds in Bwindi. Book a camping safari and enjoy the outdoor experience for a small fee.
One of the best options for tourists on a tight budget is Gorilla Conservation Camp. If you have your own tent, you can truly camp, but you can also rent self-contained accommodations.
For campers who are interested, Bwindi Forest Farm facilitates project planning. You might assist with farming, building constructions, or teaching at a nearby school at the farm, which is located on a coffee plantation. At the camp, you can book a banda or rent a tent.
Useful information
Geography
Located in the Kanungu District in the southwest of Uganda, this must-see site is a favorite combination safari among visitors to Kibale National Park.
Weather
The climate at Bwindi Impenetrable National Park is humid but not extreme. Because it is so close to the equator, temperatures are stable all year round. Normal daytime temperatures are around 23°C/73°F, with nighttime lows of around 11°C/52°F.
Bwindi experiences a lot of rain every year. The least amount of rain falls in the months of June and July. The heaviest rain falls between October and November and between March to May. Hiking boots and water-resistant gear are necessities.
Best time to go
Understanding the optimum time to visit Uganda is crucial since it affects lodging costs, flight costs, availability, and the weather visitors can anticipate while on their safari trip.
Although Bwindi is accessible all year round for gorilla trekking, the best months to visit are from June to August and from December to February. The forest trails are less slick during these seasons since it is drier.
Health
It is advised to stay current on Uganda's most recent immunization needs, be sure to take precautions against malaria, and get specific vaccinations (contact your local doctor or travel clinic).
Use mosquito repellent (those with DEET are the most effective), cover yourself in the evenings, and take antimalarial medication to reduce your chance of contracting malaria.
Visitors should also exercise caution by donning clothing in the evening and using insect repellent (those containing DEET are the most effective).
It is advised to see a travel medical facility before traveling to Uganda. When leaving a nation where there is a significant danger of transmission of yellow fever, you should get many vaccinations, which are often given before you leave.
FAQs About Bwindi Impenetrable Forest National Park
Where is Bwindi Impenetrable Forest National Park located?
Bwindi Impenetrable National Park is located in the southwest of Uganda, the journey by flight can be completed by the domestic carrier from Entebbe or Kampala (Kajjansi Airfield) to Kihihi or Kisoro near Bwindi.
How much is the Bwindi entrance fee?
The entrance fee for Bwindi is USD$40 for Foreign Non-Residents – (FNR), USD$30 Foreign Residents – (FR), UGX20,000 East African Citizens – (EAC)
What animals will visitors see at Bwindi Impenetrable National Park?
Visitors to Bwindi Impenetrable Forest National Park will see mountain gorillas, chimpanzees, olive baboons, black-and-white colobus, l'Hoest's monkey, elephants, Bushbuck, forest duiker,  buffaloes, golden cats, bush pigs, side-striped jackals, and civets.
Other Uganda Safari Parks
The ten Uganda National Parks include Queen Elizabeth, Lake Mburo, Murchison Falls, Kidepo Valley, Kibale, Mount Elgon, Rwenzori Mountains, Semuliki, Mgahinga Gorilla, and Bwindi Impenetrable National Parks.