Thornybush Collection. Game Lodges: Our Trusted Safari Partner
A cluster of opulent safari lodges in South Africa, the Thornybush collection is known for offering some of the best bush experiences in the country. Each lodge is situated on a riverbed or overlooks a waterhole, allowing visitors to enjoy the outdoors in sumptuous comfort. With the first lodge opening its doors in 1961, Thornybush is one of the first nature reserves in the Greater Kruger National Park. Since then, the Thornybush collection has expanded its distinguished collection of lodges, and it now runs operations in both the Sabi Sand and Thornybush Private Nature Reserves.
The history of the company dates back to when safari pioneer Norman Carr created a safari experience centered on community and conservation in Zambia seventy years ago. This philosophy has been upheld by Time + Tide, which has created a more "grounded" travel experience based on preserving Africa's unique history, animals, people, and cultures.
Set within the greater Kruger National Park
They have worked on a variety of wildlife projects over the past few decades, including the first relocation of an entire elephant herd from Kruger, one of the first leopard introductions onto a private reserve, in-depth research on the critically endangered pangolin, and the first release of a black rhino onto a lowveld private nature reserve. Their attempts to improve the local community, including their extremely successful "Thousand Herbs and Vegetable Garden" initiative, which consists of two small farms maintained by local businesses and provides the lodges with fresh produce, are part of their solid dedication to sustainable travel principles.
The goal of the Thornybush collection is to create memorable, immersive, and transformative experiences. Every safari directly and positively affects both people and the ecosystem. These lodges offer the best service, delectable food, and professional guides, making them the ideal retreat for discovering the Greater Kruger's amazing wildlife.
Thornybush Collection Tours and Safaris
Browse through our suggested safaris and tours, each of which includes a stay at a five-star lodge run by the Thornybush collection, or get in touch with a Kabira Safari Expert for help creating the ideal custom itinerary.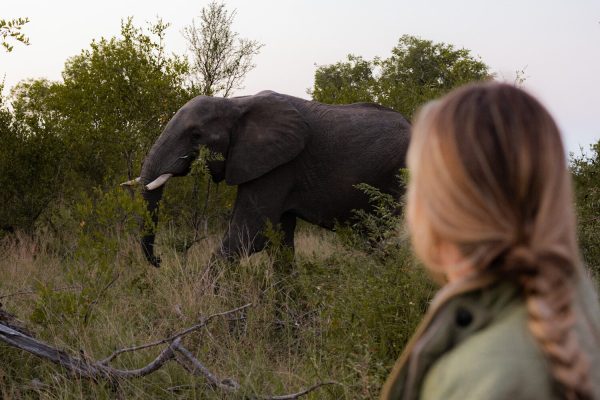 Our Holidays in South Africa are like the spots on a leopard's coat – each one is different. We'll tailor-make your South Africa holiday to suit your individual needs rather than simply asking you to choose.
Thornybush Collection Accommodation
Each lodge in the Thornybush collection is in a prime location and places a strong emphasis on authentic experiences and an eco-conscious way of living. Plan your Thornybush adventure by perusing the collection below or getting in touch with us.