Camping in Botswana | Luxury Botswana Camping Safaris
Camping in Botswana is the best way that tourists can experience the wild close-up of many of the wildlife species. Camping safaris in Botswana have become a favorite for tourists especially if they are doing the mobile camping safari
The best method for travelers to experience the wild up close in Botswana is through camping, as several wild animals roam freely throughout the various National Parks where the camps are located. You can go on a public camping safari or a private camping safari, but both will provide you with the necessary adventure. The reason why mobile camping safaris in Botswana have grown so popular with tourists is that they make it simple for them to visit the various park areas that are sometimes overlooked while simply driving through the National Parks.
In contrast to the rainy season, when the roads are impassable owing to persistent flooding and slickness, camping in Botswana is typically done during the dry winter or season because the ground is dry and most camping spots are also easily accessible.
There are a lot of things you need to know about camping in Botswana, and if you want to enjoy your camping trips there, you should at least be aware of a few of them. Some of these have been included below so that visitors can learn about all the regulations that apply to camping trips in Botswana.
Since many of the camping areas found in National Parks are unfenced, you must exercise caution when passing through the camp at night since many animals continue to roam freely. It is always advisable to abide by all the instructions provided by the tour guides so that you can avoid coming into contact with the animals.
Because it is difficult to navigate the National Parks and wildlife reserves in the nation, you will need a 44 vehicle to bring you to the locations where you are intended to camp. This is an important thing that you must accomplish because the majority of the roads in Botswana are covered in sand.
Botswana in camping is all about surviving in the wild, and cooking your own food is one method to do this. There may be upscale campgrounds that serve meals to guests, but cooking for oneself, especially in the bush, maybe a joy. However, after cooking your meals, make careful to extinguish the fire to prevent luring wild creatures to your tent.
Prior to going camping in Botswana, be sure to acquire a tourist map of the areas you intend to visit in order to avoid getting lost. These maps are useful for locating the best camping spots.
Make sure you hire the greatest and most knowledgeable tour guide before you go camping because they will know the best routes to go and where to set up the tent, making your camping trip one you won't soon forget.
Travelers should always have enough cash on them in case of unavoidable situations or if they need to buy more items along the journey.
The majority of the camos lack electricity, so you should be prepared for everything, and it's not a guarantee that you'll see all the wild animals you want.
Camping in Botswana is normally carried out in National Parks and some of the best camping safari destinations in Botswana include the following:
The Okavango Delta features a variety of camping areas where visitors may go and take advantage of everything the Delta has to offer. In addition to enjoying various activities that are carried out by other tourists in the delta, the numerous campsites that are scattered across the Okavango delta give visitors the possibility to watch the animals that roam the area both during the day and at night. The excitement of camping in the delta is getting a close-up view of the animals as they pass by your spot.
The Okavango delta's Moremi wildlife reserve, where you can go on a camping safari, includes many campgrounds where you can enjoy your safari; all you need to bring is your own firewood and other personal goods. During your camping safari in the Moremi game reserve, you might be able to spot zebras, lions, spotted hyenas, elephants, hippos, crocodiles, and many other types of wildlife. Additionally, you'll be able to socialize with the nearby San Bushmen who reside close to the reserve.
One of the best locations in Botswana for a camping safari is the Linyanti game reserve, which is sandwiched between the Chobe National Park and the Okavango Delta. It appears to be the paradise you need to relax thanks to its advantageous location near to the Linyanti River. The greatest time to go camping in the Linyanti reserve is between the months of June and October, even though this is also considered as the peak season. The Linyanti reserve contains roughly five sites where tourists can go for their camping safaris. If you want to enjoy your camping safari, you must make reservations early for all of them. You will be able to observe animals including elephants, zebras, rhinos, crocodiles, and impalas while on your camping safari.
There are more than 13 camp sites in the Khama Rhino Sanctuary where visitors may go and enjoy the environment, particularly when it comes to locating the black and white rhinos that had gone extinct as a result of persistent poaching by the locals. There will be other species to see like the Zebras, hippos, crocodiles, elephants, and Impalas, so you can choose to either pitch up your own tent or go for the already established campgrounds. Either way, you will still get to enjoy your camping safari in the sanctuary.
Camping in the privately owned Savuti game reserve. This reserve only allows camping safaris to those who have made reservations, and people enjoy camping here because it is never crowded because of the reserve's strict private policies. The best way to travel to Savuti for a camping safari is by road and using a 44 car. Savuti game reserve has about 14 campsites, and since it is not fenced like the other national parks in Botswana, you will easily get a glimpse of the various animals that habitate within the reserve from your campsites like zebras and giraffes.
Due to its expansive size, camping in Chobe National Park, as in the Okavango Delta, is a great way to experience a camping safari in Botswana. You will need 4×4 vehicles to travel to the various camps located within the Park because the roads there are not as hospitable and can be very challenging to drive on owing to their sandy nature. There is no better way to experience the outdoors than by camping right next to some wild animals. The campers in Chobe are typically hidden away in the bushes. The Ihaha campsite, which is situated along the Chobe River, is one of the primary campsites in the Chobe National Park. Despite having no electricity, the camp offers some of the greatest views in the park, particularly at night when nocturnal animals are out searching for food.
Although each of Botswana's national parks has its own set of rules and regulations regarding camping, all campers are required to abide by the following general guidelines: you are not allowed to feed the animals, you may only camouflage yourself where the authorities deem it appropriate, you must not leave your toilet paper lying around the bushes, you must not leave your camp at night, and you must not drive through the parks at night.
Although camping is very safe for visitors in Botswana, you shouldn't leave your belongings unattended because there are pickpockets in the area who are constantly hunting for something to steal from the unaware visitors.
It might seem simple to be ready for a camping safari in Botswana, but you'll need to learn a lot about what you'll need, some of which has already been covered above. You'll also need to ask your tour guide when would be the best time for you to go camping.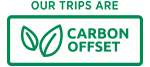 Travel lightly with Kabira Safaris Africa. We've offset the main sources of carbon emissions from this trip on your behalf, including transport, accommodation & waste. Learn about our Responsible Travel Policy.
How to Plan Camping in Botswana
Describe your dream camping safari in Botswana.
We get you in touch with our travel planning specialists who will help you plan your camping safari in Botswana.
We make adjustments where necessary.
Book the itinerary/Journey when ready.
Enquire now and a Travel expert will get back to you within 2-4 hours.
Chat. +256 779 820 753