Premium 4 Days Uganda Safari – Gorilla Trekking and Wildlife
This Premium 4 Days Uganda Safari adventure is action-packed and sure to satisfy. 4 Days Uganda Safari is Gorilla Trekking Bwindi & Wildlife Tour in Lake Mburo National Park. Travel to Uganda and encounter one of the world's most endangered creatures, the noble mountain gorilla. Hike into the dense jungle with an expert native tracker in search of Uganda's birdlife, frogs, and butterflies. The first glimpses of mountain gorillas will undoubtedly steal hearts and leave people awestruck – a fitting reward for the difficult climb.
Itinerary at the Glance: 4 Days Uganda Safari
Day 1: Kampala – Lake Mburo
Day 2: Bwindi Impenetrable Forest National Park
Day 3: Gorilla Trekking in Bwindi Impenetrable Forest National Park
Day 4: Transfer to Kampala & Departure
Detailed Itinerary
Day 1: Kampala – Lake Mburo
Greetings, Hello! and welcome to your 4 Days Uganda Safari. Your adventure begins at a hotel at 9:00 a.m. Then proceed to Lake Mburo National Park.
Lake Mburo National Park's flora is acacia forest, which distinguishes it from most other parks in East Africa, and its fauna is similarly distinct from other reserves. It's the greatest site in the country to see the massive eland antelope, and it's home to 68 different mammal species, including zebras, impalas, buffalo, leopards, hyenas, and jackals. The park contains five lakes that are home to hippos, crocodiles, and a variety of waterbirds, while the papyrus swamps provide habitat for the sitatunga antelope and red, black, and yellow papyrus gonalek. Because this little park is less well-known among tourists, it is quieter than some of East Africa's more famous parks.
This afternoon you will take a game drive through the park before settling into the accommodation in Mbarara for the night.
Meals: Dinner
Drive Time
Approximately 270km
Day 2: Bwindi Impenetrable Forest National Park
You have another chance to track the gorillas this morning (at an additional cost). You return to Mboko Camp in time for lunch from Ngaga through Mbomo Village and the Odzala-Kokoua National Park. Following a siesta, guides will take you out on the river in kayaks or on a sundowner river tour. Mboko Camp is where you'll spend the night.
You get up early this morning and travel to Bwindi Impenetrable Forest ( approx. 3hrs ). Bwindi Impenetrable National Park is known for its incredible biodiversity and is home to numerous endangered animals, including about half of the world's remaining mountain gorillas.
The afternoon is free to explore some of the local sights. Mikozi Village is the location of the optional village tour. Learn about the Ugandan countryside, visit local markets, speak with a traditional Ugandan healer, and have a drink or two at a local bar before returning to your Rushaga lodge.
Meals: Breakfast, Lunch, Dinner
Optional Activities Rushaga
Village Visit – USD20
Rushaga – Waterfalls visit – Free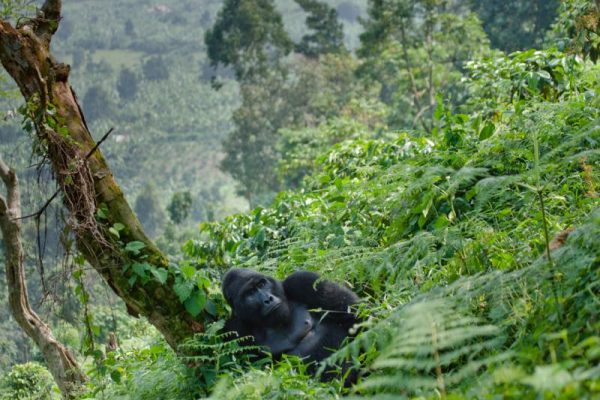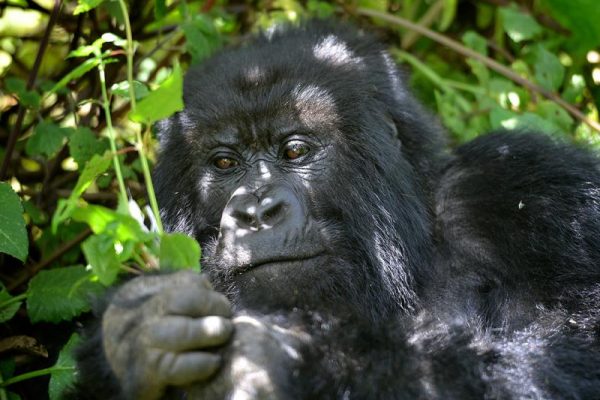 Day 3: Gorilla Trekking in Bwindi Impenetrable Forest National Park
Tracking gorillas in the deep forest can be rainy, muddy, and uncomfortable at times, and can reach altitudes of nearly 2000 meters above sea level. The terrain is also not easy, so walking can be laborious and often humid, but the sheer pleasure of coming across a habituated group of gorillas, led by a great male silverback, much overcomes any difficulty. You must be prepared and fit enough to walk up and downhill for up to 4 hours. We can usually get up and personal with the mountain gorillas, who are calm and friendly, and observing their motions is like seeing a mirror image of yourself.
When a trekking group comes across one of the gorilla families, your meeting with the gorillas will last one incredible hour. After that, relax at your lodge and take in the breathtaking scenery.
Meals: Breakfast, Lunch, Dinner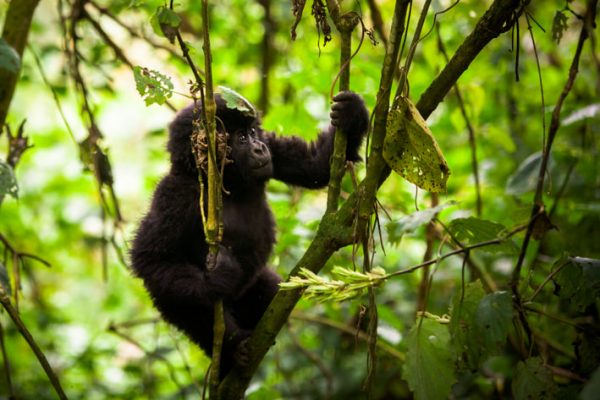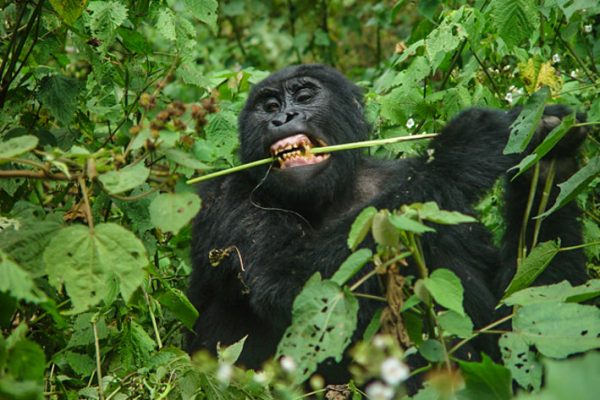 Day 4: Transfer to Kampala and Departure
Today is a long day of travel as we make our way back to Kampala, pausing along the route to take pictures at the equator and eat a picnic lunch.
This 4 Days Uganda Safari tour concludes at your accommodation. Tonight there is no accommodation included. If you like to remain longer, we can arrange your post-tour lodging at our finish point hotel. If you want to fly out tonight, please do not book a flight that departs before 9 p.m. to allow for possible delays.
End of the 4 Days Uganda Safari
Essential Trip Information
Want an in-depth insight into this 4 Days Uganda Safari Trip? Essential Trip Information provides, visa info, How to get to Uganda, the Best Time to visit – pretty much everything you need to know about this adventure and more.
Let's Plan your trip to the Gorilla Trekking & Wildlife viewing – 4 days
One of our Safari Experts will get back to you within 2 – 4-hours.