The Zanzibar Collection Hotels And Spa, Tours, Reviews, Videos and Photos
The Zanzibar Collection Hotels And Spa, Tours, Reviews, Videos and Photos. The award-winning hotels in the Zanzibar Collection are spread around the picture-perfect island of Zanzibar and are situated in stunning settings. Incorporating the island's own culture and history, each of the four privately owned, family-run luxury resorts offers visitors an exceptional oceanfront holiday in one of Africa's most popular locations.
Every hotel in The Zanzibar Collection has its own distinct personality and style, but they are all connected by the tale of a family-run enterprise that takes great pride in its attention to detail, first-rate customer service, and celebration of Zanzibar through its numerous services.
Experience True Swahili Luxury on the Most beautiful beach in the world
Discover the Zanzibar Island – Stone Town & City Tour – Spice Tour – Dolphin Safari – Jozani Forest – Prison Island – Sunset Dhow Cruise – Freddie Mercury Tour.

Introducing the stunning Zanzibar Collection Hotels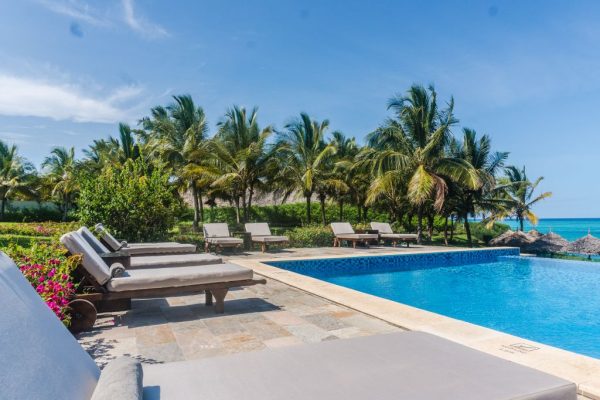 Zanzibar, the island of spices and the best place to go scuba diving in Africa. Zanzibar's Stone Town, a UNESCO World Heritage Site, is a cultural highlight of any honeymoon. When planning a trip to Zanzibar, travelers may anticipate seeing authentic stone houses, traditional fishing methods, and stunning beaches.
The Zanzibar Collection Accommodation
The Zanzibar Collection's hotels and resorts are all distinctive, enticing, and opulent. Both great service and a wealth of contemporary conveniences are guaranteed. When you're ready to create a seamless schedule of locations and lodges, browse the available lodging at your leisure and get in touch.
The Zanzibar Collection Hotels And Spa Reviews
The four boutique hotels that make up the Zanzibar Collection are privately owned and provide a wide variety of amenities and experiences. Excellent facilities, including as a diving center and award-winning spas, as well as attentive, customized service. All of these beautiful Zanzibar hotels are located on the south east coast, along a stretch of pristine beach.


Client: Mr Paul M
This is a very luxurious hotel with only 30 villas some on the beach front. Fabulous grounds and swimming pool, beautiful restaurants serving stunning food. The villas have sitting rooms with day beds, enormous bathrooms, the largest double beds you have ever seen with luxury pillows. Each villa has a plunge pool and outside seating area. The staff are superb, welcoming and happy. There are no bad points to this hotel, everything is spot on.
Date of stay: September 2023
Trip type: Travelled with friends
Room Tip: Just relax and enjoy the peace and tranquillity of a wonderful place
Client: Susanne H
Country: Brosarp, Sweden
There are luxury hotels and resorts , with top class service quality food … all over the world. And then there are THE hotel / resort that takes you your experience to that other level. That have all the luxury, but on top of that the special spirituell athmosphere that makes you just feel relaxed fine and smiling. Baraza is one of this. When you enter the area its like arriving to another world. This is not Barbados, Thailand, Dubai, the French Riviera , the Far East… This is Africa this is Zanzibar. And The hotel resort is built like a mirror of the proud and rich history , spicy culture and magic " air" of Zanzibar and the Swahili coast. The Sultan- history-architechture the green garden and the beach front are smooth embrassing each other. And the area is open and great with the private villas spread out discrete and beautiful. You have your own little garden veranda with a small pool and daybed. The beach is just fantastic wide and long and well protected as a nature resourse and also far far alway from the mass-tourism crowded beaches. Its beautiful to walk along, just hang around or of course – just jump in the Ocean. When its not dry, the tide makes a special attraction – with the sea coming and going. During the dry hours its a great experience to take a walk on the reef. And talking about water, the swimmingpool area is also just so tasteful and beautiful. You can relax around it there, or along the beachfront. There are several sunbeds free to use, after your personal taste. Everything are all inklusive- so I did my best to enjoy it all… excellent food, also at your choise- international and local cuisine with a twist. A big selection all with top class in taste and creative presentation. I just had some fantastic days here, spoiled as a Queen… I have been here before, and its with a big love I had the pleasure to return. Its hard to find the right words, but just the feeling of freedom you can just relax , the warm and discrete hospitality , the piecful and luxury personal attendence all over. The staff – I must say that its one of the main attraction – everyone from the cleaning- team gardeners waiters watersport chiefs to managers – having a top class service level, always with a personal eye and a big smile. Baraza is a warm and beautiful meetingplace for a global world with the unique Zanzibar culture. I am already dreaming for coming back…
Date of stay: December 2022
Trip type: Travelled solo